SPIRIT DSP VideoMost.com Recognized Among Top 10 VoIP Solution Providers 2016 by Enterprise Networking Magazine-VoIP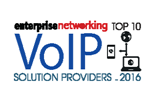 FREMONT, CA—March 14, 2016- VideoMost.com, software video conferencing server with mobile clients from SPIRIT DSP, joins an elite number of companies that have earned a spot on Top 10 VoIP Solution Providers 2016 by Enterprise Networking Magazine.
In a deliberate session with the honorary industrial experts, a list of Top 10 VoIP Solution Providers 2016 has been concluded with. The positioning is based on evaluation of VideoMost.com's advantages in videoconferencing software server product development. VideoMost transforms Internet-connected PC, smartphone and tablet into a videoconferencing terminal. It automatically and dynamically adjusts video quality to network conditions and CPU utilization throughout a conference session based on the capabilities of each endpoint device.
VideoMost SDK empowers companies to quickly launch new services and add multipoint mobile video communication to one's product as a function, and not as a standalone application. "VideoMost product is for white-label licensing and enables service providers and software vendors to offer video conferencing services under their brand with immediate time-to-market," explains Andrew Sviridenko, SPIRIT DSP Chairman.  VideoMost allows up to 250 interactive video participants in online conference room, plus additional broadcasting the video to 1,500 viewers per each server. VideoMost SDK facilitates telcos and service providers to efficiently compete with Cisco WebEx and Microsoft Skype in the enterprise.
VideoMost SDK allows users to build mobile and web applications to ensure the most comfortable peer-to-peer, multi-point voice and video communication experience along with efficient collaboration in workgroups and cross-country seminars. VideoMost SDK makes interactions more efficient, personal, and visual—using video, audio, broadcasting, and document sharing for online collaboration. "I congratulate VideoMost.com on being recognized with the much coveted title and being a recipient of Top 10 VoIP Solution Providers 2016", Lena Headey, Managing Editor, Enterprise Networking Magazine. "We are glad to showcase VideoMost.com this year due to its continuing excellence in delivering top-notch technology driven solutions."
Reed full interview with Andrew Sviridenko at http://www.enterprisenetworkingmag.com/vendor/article7/videomost.com
About VideoMost.com
Headquartered in Moscow, Russia, VideoMost.com is an award-winning massively multipoint videoconferencing software server with mobile clients, enabling telecom carriers, SaaS providers and enterprises to deliver a self-branded videoconferencing service from the cloud or with on-premise installation. For more info: http://www.videomost.com/en/
About Enterprise Networking Magazine
Published from Fremont, California, Enterprise Networking is a print magazine that talks about enterprise networking solutions that can redefine business goals of tomorrow. A distinguished panel comprising of CIOs, VP-ITs, CTOs including Enterprise Networking's editorial board finalized the "Top 10 VoIP Solution Providers 2016" in the U.S. and shortlisted the best vendors and consultants. For more info: http://www.enterprisenetworkingmag.com/