VideoMost and Huawei present 1st ARM-based video conferencing server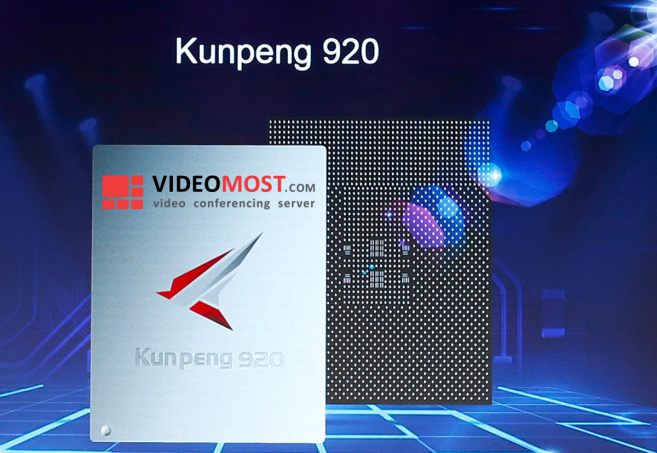 SPIRIT DSP, business communications SDK provider, with software products serving more than 1 billion people in 100+ countries, presents the first ARM-based videoconferencing server together with Huawei.
VideoMost, enterprise software video conferencing server with PC and mobile clients, has been successfully ported from x86 to ARM-based Huawei flagship processor Kunpeng with ultimate performance.
VideoMost and Huawei teamed up to port 2 Mln lines of VideoMost software code on Huawei Kunpeng, including porting to ARM architecture a wide range of standard and proprietary software technologies, communication standards, open protocols, collaboration tools, popular audio and video codecs, etc. that together provide ubiquitous VideoMost interoperability with legacy communication software (including Microsoft Outlook, Exchange and Skype) and hardware (including Cisco, Polycom, Avaya, Huawei, etc).
Major performance boost was obtained while preserving high audio and video quality.
VideoMost software server running on Huawei Kunpeng supports up to 6000 concurrent connections (video ports) on a single hardware server and is very cost-effective platform for both on-premises and cloud based video conferencing.
VideoMost on Huawei Kunpeng outperforms x86-based servers saving infrastructure costs by 2-3 times. VideoMost partners, telcos, service providers benefit from VideoMost and Huawei cooperation decreasing cloud servers' infrastructure costs by 40-60% for their SaaS video conferencing services.
About SPIRIT DSP
SPIRIT DSP's innovative carrier-grade voice and video software platforms are used by carriers, OEMs and software developers. SPIRIT DSP software platforms serve more than 1 billion people in over 100 countries. SPIRIT DSP's software is licensed to/powers popular products from global technology leaders, including Apple, Adobe, ARM, AT&T, Avaya, Blizzard, BroadSoft, BT, China Mobile, Dialogic, Ericsson, HP, HTC, Huawei, Korea Telecom, Kyocera, LG U+, Mavenir, Mitel, Microsoft, NEC, Oracle, Polycom, Reliance, Samsung, Skype, Texas Instruments, Toshiba, Viber, ZTE and over 250 others.
VideoMost.com is SPIRIT's software video conferencing server product complete with collaboration tools including document sharing, application sharing, whiteboard, mobile messenger, polls and more. Linux-based VideoMost supports WebRTC, SVC, XMPP, SIP, BFCP, H.323, H.239, and dozens of other communication standards and popular open source protocols. VideoMost clients run on Windows, Mac, Linux, Web, Android and iOS. TeamSpirit.IM is its enterprise mobile messenger product available for licensing in source code.