Instant Web Video Conferencing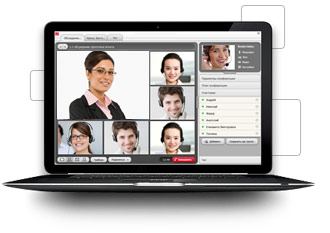 Converts any Internet-connected device into a video conferencing terminal
Video

Most

is a simple software product which provides HD voice and video without the need to deploy and maintain expensive MCU-based transcoding solutions and dedicated networks.
---
Key features
World's best quality HD voice and HD video: works on connections from 512  Kbps, provides up to 30 fps HD 720p, and offers clear audio even with built-in microphones
Up to 50 fully interactive video participants in one conference, plus video broadcast to 500 more
Web-based or client-based
Collaboration and moderation tools: works with documents and presentations, integrated with e-mails and calendars, supports schedule and conferences log, provides sessions recording and translation into Flash; videoconference and selector modes
Mobile platforms support
Scalable:  automatically adapts to available processor power and bandwidth
Open API for easy integration with a third-party applications, portals and networks
VoLTE-ready
VideoMost is an easy and scalable video conferencing software that supports desktops, tablet PCs and the most popular web browsers. VideoMost automatically and dynamically adjusts video quality to network conditions and CPU utilization throughout a conference session based on the capabilities of each endpoint device, so all participants benefit from the full potential of their devices to deliver natural, face-to-face communication without broken images or delay.
VideoMost software transforms Internet-connected PC and tablet into a video conferencing terminal. VideoMost enables you to collaborate more effectively with colleagues, customers, partners, suppliers and people important to you.
VideoMost is a complete client-server software product. Its media processing core is SPIRIT's TeamSpirit® Voice&Video Engine that provides high-quality voice and video processing and transmission over IP networks.
VideoMost Advantages:
Enables mass deployment of video conferencing in organization of any size
Leverages existing assets, no additional hardware investment required
High voice and video quality. Best possible quality in general-purpose packet networks, adapting to available client side conditions (CPU and bandwidth). Each participant gets the maximum possible quality, and those having poor conditions do not affect the others.
Integrated collaboration features (document and desktop sharing, presense, text chat, etc)
High performance. 1 generic ($4,000) PC server supports up to 1,000 simultaneous video calls, enough for a 10,000-person organization
Scalability — support both enterprise-wide and carrier-grade deployments
100-times infrastructure cost advantage over legacy videoconferencing server hardware
Easy integration with business applications, data centers, call center solutions, etc.
VideoMost for End Users:
Multi-point video conferencing with a continuous presence mode
Moderate system requirements – Pentium IV or higher (Core2Duo is recommended for best performance). MS Windows, Mac OS and iPad support.
Openness – external users can join a conference by clicking a link in an e-mail invitation, no registration is required
Variety of modes of participation:
Privacy mode – users can mute transmission of their own video and/or audio to the conference
Put conference 'on hold' – user can stop (and resume) getting audio from a conference
Hands-free mode support with fully preserved audio quality (built-in echo and noise cancellation)
Collaboration tools: document and desktop sharing and joint viewing, text messaging
Moderation – assign rights, mute, put on hold or ban participants
Conference recording