TeamSpirit Voice and Video Engine Receives 2014 Unified Communications Product of the Year Award from INTERNET TELEPHONY magazine
MOSCOW, Russia, June 19, 2014 – SPIRIT DSP, the world's #1 voice and video over IP engines provider serving more than 1 billion users in 100+ countries, announced today that TMC, US media company, has named SPIRIT's VVoIP mobile software product, TeamSpirit® Voice & Video Engine, as a recipient of its 2014 Unified Communications Product of the Year Award sponsored by INTERNET TELEPHONY magazine.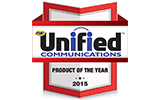 TeamSpirit® Voice and Video Engine is a digital signal and network processing SDK designed for the rapid development of high-quality, multi-platform mobile voice and video over IP applications. VVoIP Engine enables superior HD voice and video communications on all popular mobile and desktop platforms. With VVoIP Engine developers can focus on their own applications and quickly bring new products to the market.
"I am excited to proclaim SPIRIT DSP as a 2014 recipient of TMC's Unified Communications Product of the Year Award for their innovative product, TeamSpirit® Voice & Video Engine" said Rich Tehrani, CEO, TMC. "Our judges were very impressed with the ingenuity and excellence displayed by SPIRIT DSP in their groundbreaking work on TeamSpirit® Voice & Video Engine"
«The recognition of TeamSpirit® Voice & Video Engine as the Product of the Year by INTERNET TELEPHONY emphasizes that SPIRIT DSP once again innovates product that meets the demand from telcos and service providers to implement VoIP services popular with consumers,» said SPIRIT's Chairman Andrew Sviridenko.
About TeamSpirit Voice and Video Engine
TeamSpirit Voice&Video Engines support both RCS and VoLTE. The engines include resource-efficient HD voice and video codecs, acoustic echo and noise cancelling, speech enhancement, automatic voice and video rate selection (ARS), packets loss concealment, network adaptation, voice and video synchronization, a dozen of standard digital telephony functions and more. In addition to a dozen of ITU-T standard G.7xx and H.26x codecs included in the engine, SPIRIT DSP also offers its own industry leading patented IP-MR™ (IETF RFC 6262) adaptive and error-resilient HD voice codec that has been selected by Tier1 telecom operators to deliver HD voice to dozens of millions of their subscribers. TeamSpirit video engine uses H.264SVC and VP8 video codecs. TeamSpirit Voice&Video Conferencing Engine is an additional server-side product bringing all the power of TeamSpirit's robust high-quality calling to centralized multi-point communication scenarios.
About SPIRIT DSP
SPIRIT DSP is the world's #1 voice and video over IP (VVoIP) engines provider. SPIRIT's innovative carrier-grade voice and video software platform is used by carriers, OEMs and software developers, web services and social networks, serving more VoIP users than Skype. SPIRIT DSP software platforms serve more than 1 billion users in 100 countries. SPIRIT DSP software powers popular products from global technology leaders including Apple, Adobe, ARM, AT&T, Avaya, Blizzard, BroadSoft, BT, China Mobile, Dialogic, Ericsson, HP, HTC, Huawei, Korea Telecom, Kyocera, LG U+, Microsoft, NEC, Oracle, Polycom, Reliance Jio, Samsung, Skype, Texas Instruments, Toshiba, Viber, ZTE, among more than 250 other hardware and software manufacturers. SPIRIT's direct OEM customers jointly exceed 60 percent of the global smartphone market share.
About INTERNET TELEPHONY magazine
TMC is US-based integrated media company that helps clients build communities in print, in person and online. TMC publishes multiple magazines including CUSTOMER, INTERNET TELEPHONY, M2M Evolution and Cloud Computing. TMCnet is read by more than 1.5 million unique visitors each month, and is the leading source of news and articles for the communications and technology industries. Visit TMC Events for a complete listing and further information.