Videoconferencing for Telcos & Service Providers
Expand your offering and generate new revenue
Strengthen subscriber loyalty and increase your market share
Compress time-to-market to 2 days instead of months
Minimize your data center infrastructure expenses by using the most hardware CAPEX cost-effective product in the world
WhatsApp, Skype, Viber, Google Hangouts, Microsoft Lync, Cisco WebEx and other OTT services cut into telecom carriers' and service providers' revenues. Telcos are striving for subscriber retention and new customer acquisitions. Offering HD videoconferencing as a SaaS under a telco's brand and billing for enterprise customers can help telcos acquire new corporate subscribers, gain revenue and strengthen their brand.
VideoMost is a top quality software product designed for service providers and telecom carriers that enables HD videoconferencing for collaboration in workgroups, online meetings and distant learning for enterprises. VideoMost makes office collaboration more efficient, personal and visual, while cutting down travel expenses and saving time.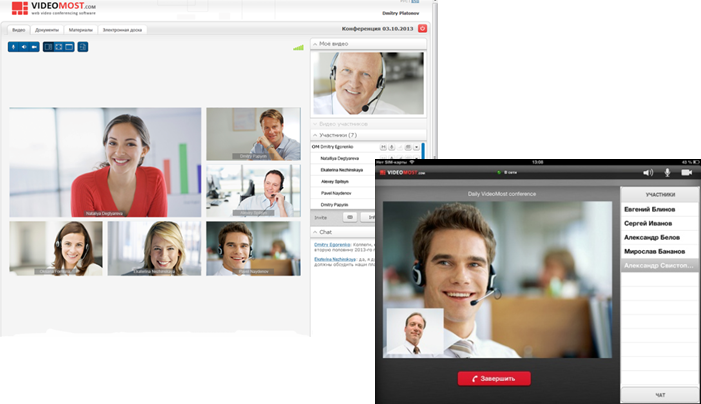 Generate new revenue with VideoMost
VideoMost enables mass deployment of SaaS video conferencing at minimum costs — 100 times server infrastructure cost advantage over legacy videoconferencing hardware:

Low CapEx – no major capital investment needed. VideoMost Server software ports costs are a fraction of hardware systems costs
High efficiency – thanks to SPIRIT's scalable video technologies in VideoMost, one commodity $4,000 PC server hardware with VideoMost software supports up to unprecedented 500 concurrent video channels
VideoMost SaaS service scales easily to millions of end-points andallows to add participants anytime and optimize costs in 'pay-as-you-grow' scheme.
VideoMost platform gives you an outstanding flexibility:

White label licensing – customize VideoMost (including GUI) and provide service under your own brand and billing
Use VideoMost video conference either as a standalone service or integrate it into your product and enrich your offer to customers – VideoMost platform architecture enables easy integration with business applications, web-based services, datacenters, call center solutions, and more