Videoconferencing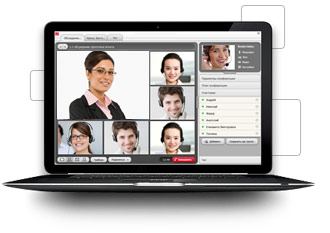 Converts any Internet-connected device into a video conferencing terminal
Video

Most

is a simple software product which provides HD voice and video without the need to deploy and maintain expensive MCU-based transcoding solutions and dedicated networks.
---
Use VideoMost client-server software to launch online value-added video conferencing services for your subscribers or to add an integrated video conferencing feature to your software applications (workflow and docflow automation, CRM, ERP, BCA systems, intranet portals, etc.).
Instant Web Video Conferencing
VideoMost enables exactly what is called "Instant Web Video Conferencing":
Instant — end users can start a conference easily and immediately, inviting anyone they need, not having to worry about neither the number of required participants, nor if the invitees have any appropriate software installed
Web — all a person needs to take part in a VideoMost conference, is a PC (Windows or Mac) with a webcam and a mic, and a broadband Internet connection; the service is available directly thru clicking a link, no registration is required to participants.
Video — VideoMost provides best possible video quality for each participant (and those having poor channel or low CPU do not affect the rest more lucky ones)
Conferencing — VideoMost supports full-fledged multi-user video calls, and provides all necessary features for efficient collaboration of conference participants.
VideoMost Advantages
Enables mass deployment of video conferencing
Leverages existing assets, no dedicated hardware investment required
High voice and video quality. Best possible quality in general-purpose packet networks, adapting to available client side conditions (CPU and bandwidth). Each participant gets the maximum possible quality, and those having poor conditions do not affect the others. VideoMost uses TeamSpirit® Voice&Video Engine — a world-class solution from SPIRIT DSP
Integrated collaboration features (document and desktop sharing and text chat)
High performance. 1 generic ($3,000) PC server supports up to 1,000 simultaneous video calls, enough for a 10,000-person organization
Fast scalability — support both enterprise and carrier-grade deployments with cluster technologies
Supports both real video from camera and synthetic 3D talking characters
Easy integration with business applications, datacenters, call center solutions, etc.
100-times infrastructure cost advantage over legacy videoconferencing
VideoMost Software in Details